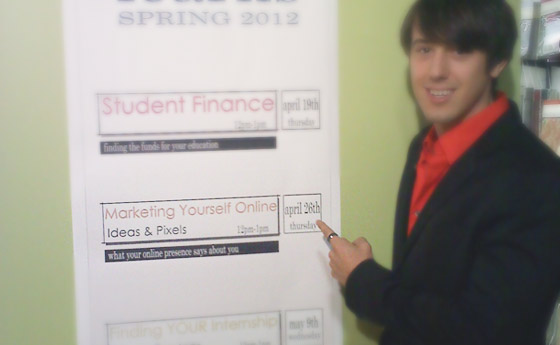 April flew by before we knew it, here at Ideas and Pixels. On top of our growing clientele, we have been tidying up our presentation skills. We were recently invited to Antonelli College to have two lunch and learn speaking events, with their students. Our presentations went into detail on how to market yourself online and what your online presence says about you.
Here is a snippet of our speech. Enjoy: What are some things that come to mind when I say social media? Social means "Of or relating to society" and media means "through the means of mass communication." One thing is clear though: there's a social media revolution going on.
We're all a part of it. But more than that, it's a media revolution. Companies becoming more transparent, more human – and like humans, they are networking. Networking is something people have been doing ever since the first caveman met the second one. It's a word you've heard in business for years. "Build your network," "Expand your reach," "Grow your prospects."
So how important is social media and will it land you a job? It's not everything it's cracked up to be. Hundreds and thousands of SEOs and Social Media experts purport that it makes the world of difference, but that's most-likely just them justifying their jobs and fat paychecks.
Social media experts should not be seen as "experts" or paid as such, but they are. This will most-likely normalize over time. The most basic and important thing to remember when contouring your social media presences for the business world is that most of the effort you put into grooming your profiles is not beneficial; it is to curtail any negatives that may come about from scouring your pages.