It seems like nowadays everyone is on Facebook. The range of individuals and companies can be overwhelming at times.  For quite some time, businesses have started developing their Facebook pages and creating specific content for all kinds of ad campaigns.
Previously, there were the tabs and "landing page" that all businesses used as a call of action. Things have changed — the new "Timeline" has started appearing on regular users profiles. As of March 30th,  Facebook has officially made all pages (including business pages) sport the new layout. This means that your social media strategy will need to be adjusted, but with the new layout, there are a few new rules that businesses need to follow to meet the new requirements set by Facebook.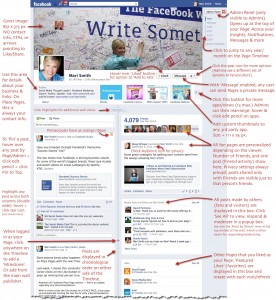 The cover image, which is the new main signature feature of the new layout, is that overwhelming image that "covers" the top of your Timeline. It measures 851×315 pixels, but smaller images can be uploaded, however, they will be stretched out. The new Timeline policy also states that businesses are not allowed to have call to actions or any sort of contact information in the cover image. If you want to know the specifics, visit Facebook's guidelines here.
The new cover means the end of the Facebook landing page era — users will automatically be directed straight to the main page that contains the cover image. And with it, goes Facebook "tabs", too. This does not mean that your previous tabs have just vanished; you just can't have the user originate there anymore. We, as designers and administrators, now have the task of thinking of some creative new ways to encourage users to like our pages.
We must look at the new layout as a new opportunity, just as we did when Facebook first launched business pages.
While our options may seem limited now, our knowledge of how to manage our pages will grow. If you are curious to learn more about how Facebook Business Timelines have changed, you should visit Mari Smith's website. She is a professional blogger and social media guru, and she has explained the new rules in far more elaborate detail than we have here.