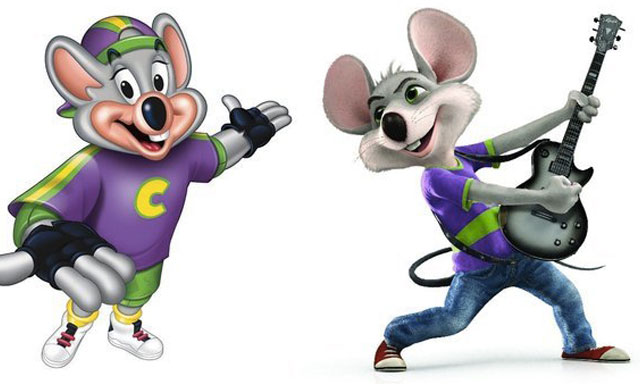 That's right! Chuck E. Cheese is ditching the baseball cap and rocking out, with skinny jeans. The pizza chain is revamping its marketing plans to promote sales for the future.
The company's stock has been gradually falling since its first quarter ended April 1. CEC said same-store sales fell 4.2% while net income slumped 5.2% to $32.3 million compared with the same period in 2011. With such a drop, Chuck E. Cheese is going on a full out marketing attack of the growing "Hipster" trend. Hipsters reject the culturally-ignorant attitudes of mainstream consumers, and are often be seen wearing vintage and thrift store inspired fashions, tight-fitting jeans, old-school sneakers, and sometimes thick rimmed glasses.
Chuck's new ad campaign is going to feature silhouetted images of the mascot stating, " You've never seen Chuck E. rock like this!"  Silhouetted images with text, this seems like a trend too. (Long sigh..)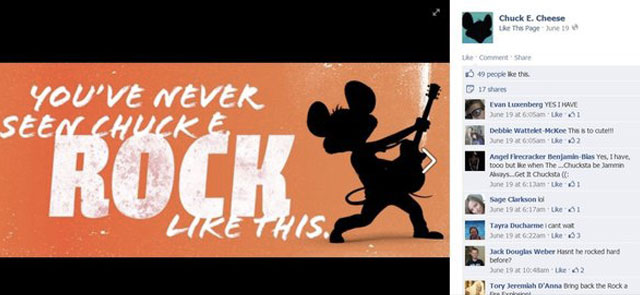 Now, for the real question, who is going to be the voice of this monstrosity? Jaret Reddick, lead singer of the band Bowling for Soup, will voice the mascot according to the Associated Press.
This is a step up and I actually do not mind the song, "Summer Cheese!" Click here to download the sneak peak of the audio clip!
My Personal Opinion About The New Chuck E. Cheese Mascot
We have to take in consideration that this isn't Chuck E. Cheese's extreme makeover and that other restaurant chains have undergone similar image updates to combat the shaky economy. Only time will tell to see if this, trendy bandwagon marketing technique, will work for them. I feel that they might have overlooked a major issue. Chuck E. Cheese will hopefully fix their dinner menu.
Personally, from what I remember, a microwaved pizza tasted better than theirs.
I hope they take the time to attack this issue, because Domino's Pizza did with their marketing campaign.
Now they have record sales and they didn't even need a jacked up mascot!